Cockapoo
Fun facts about Cockapoos from the BorrowMyDoggy community
One of the most popular, or should we say pup-ular, breeds on BorrowMyDoggy is the Cockapoo. Whether you're thinking of borrowing one or getting your own, we've pulled together some fun and interesting facts that you should know about the breed, courtesy of the Cockapoo owners in our community.
What is a Cockapoo?
A Cockapoo is a cross between a Cocker Spaniel (English or American) and a Poodle. Thanks to the Poodle, Cockapoos are hypoallergenic which means that their fur does not moult - a big bonus for anyone with allergies. They can be small to medium in size and can vary widely in colour from apricot to black, brown and gold.
If you'd like to bone up on your Cockapoo knowledge, these books might help.
How much exercise does a Cockapoo need?
Cockapoos have a lot of energy and need daily walks and exercise. They are extremely playful and adore this type of stimulation to keep them entertained. According to the Cockapoo Club of Great Britain, thanks to this boundless energy, Cockapoos are great at flyball and agility and they love it, too.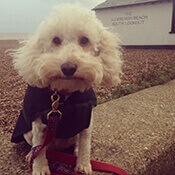 "She is very high energy and likes nothing more than a long walk and even then might come back and still want to play! A lovely nature, she is one of those typical bouncy energetic poodle/spaniel crosses." - Louisa, owner of Daisy






What is the temperament of a Cockapoo?
It is widely recognised that the Cockapoo is a very friendly, loving and fun dog, the perfect family pet. Here is what some of our members had to say about their Cockapoo pals:
"Maura the Cockapoo has already developed an affectionate and loving personality. Cute in the extreme, and very determined, she's never happier than playing with a toy, sleeping in her crate and charging around the flat like a nutter." - Jamie, owner of Maura
Are Cockapoos easy to train?
As member Aimee says, Cockapoos are highly intelligent which makes them very trainable. They are friendly and aim to please, so if you put in the time and effort, you can have a very obedient Cockapoo in no time.
Stanley's owner Aimee says:
"He is lovable, playful but also highly intelligent so responds well to play time and tricks/rewarding. He loves long walks but is equally happy nestled up on the sofa."
That being said, here are a few funny quirks that some of our members' pooches have:

Owner Helen on her Cockapoo, Willis:

"He is very obedient apart from when a tennis ball is involved!"

Owner Chloe on her Cockapoo, George:

"George is very well natured but is a little mischievous, stealing soft things is his favourite game."

Most common Cockapoo names on BorrowMyDoggy


Alfie


Teddy


Molly


Poppy


Bella


Oscar


Coco


Ruby


Rosie


Ollie


BorrowMyDoggy member, Mary, joined with her adorable Cockapoo, Digby and found some pawsome local pals for him:

High paws to our lovely community for letting us share these facts about their Cockapoos. Paws crossed you found them helpful :)

Looking for the pawfect Cockapoo to join you on a walk? Or would you like your Cockapoo to make a new friend? Why not sign up to BorrowMyDoggy today.

Sign up now