Discover trusted doggy day care

Are you looking for doggy daycare near you? Well you've sniffed out the right spot! We've shared some tips to help you find the most suitable dog daycare in your area. So whether you're looking for a full-service daycare or a place to leave your pup for a few hours, we'll help you find the pawfect solution for your furry friend.
Register for free to discover your local dog borrowers!

Everyday doggy care
If you have ever thought "I wonder if there is dog daycare near me" the answer is probably yes.
If you live in a big city, chances are there are several dog daycares to choose from. But how do you know which one is right for your pup? Here are a few things to consider when choosing a dog daycare:
Local doggy daycare: You'll want to find a daycare that is conveniently located for you. If you're working long hours, it might not be feasible to drive across town to drop off and pick up your dog. Instead, look for a daycare that is close to home or work. BorrowMyDoggy has doggy borrowers all over the UK and Ireland!
Doggy daycare pricing: Dog daycares can range in price from £10-£100 per day. Obviously, you'll want to find something that fits within your budget whilst finding something that fits your dog's needs. Make sure you read reviews and talk to other dog owners before making your final decision. Membership at BorrowMyDoggy is only £49.99 for an entire year of dog care!
Daycare amenities: What kind of amenities are you looking for? Some daycares offer basic services like food and water, while others offer more comprehensive care, including exercise, playtime, and even grooming. Decide what's important to you and your pup before narrowing down your options. By having one of BorrowMyDoggy's borrowers take care of your pup, they'll receive 1:1 undivided love, care and attention.
Register for free now to discover your local borrowers!
What is BorrowMyDoggy doggy daycare?
Although we wish it was possible, sometimes you can't take your pup everywhere with you, due to work, trips and family commitments. There are also a huge amount of people that absolutely love dogs but can't have one of their own due to shared living spaces, time issues or financial reasons.
BorrowMyDoggy is an online community where dog owners can connect with trusted, local borrowers for the perfect doggy daycare solution.
Now there is no need to feel guilty about leaving your dog on their own. Choose from hundreds of experienced borrowers and find the pawfect match for you and your pup.
Feel completely guilt free in the knowledge that your four legged friend is having a wonderful day with their pawsome, two-legged companion and spreading pawprints of happiness.
If you've ever looked for daycare for dogs you will know how many options there are, from dog boarding to kennels. We understand how much love and attention your dog needs every day and the importance of finding that pawfect match.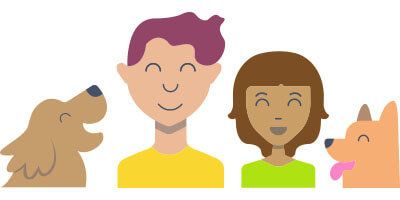 Why BorrowMyDoggy?
BorrowMyDoggy is a dog loving community where borrowers help owners take care of dogs for walkies, daytime care, weekends or holidays.
Dog day care prices can be high, by having one of our borrower's take care of your pup, this not only costs less but provides 1:1 socialisation and much needed fuss for your pup. You needn't feel guilty about working late or heading off for a day out as your dog will be having a holiday of their own!
We take safety and security very seriously and believe that dogs truly are family members and as such, BorrowMyDoggy is all about getting to know other dog lovers really well before making a match. Just as you would with a dog walker or doggy day care, it's super important to know each other well before a dog is taken care of by another person.
Everyone, including the dog, needs to feel happy and trust each other since each pooch and person is different. Before leaving your dog with a local borrower, meet and greet to ensure everyone gets on well, owners then fill out and share the Doggy Info Sheet. This includes important information, from vet's name and address to eating habits and exercise routines, to ensure dogs receive the best care possible.
How does BorrowMyDoggy differ from traditional doggy day care?
One on one attention - our matches are made on an individual basis, compared to dog walkers who often walk multiple dogs.
More affordable - traditional doggy daycare can be expensive. Our borrowers help walk local dogs because they love dogs, no money is exchanged between members.
Peace of mind - dog owners can relax knowing their dog is enjoying extra exercise and attention from an insured dog lover who has taken our safety checks.
Local - search from as close as ¼ mile to find a dog walker who lives in your neighbourhood.
Doggy daycare testimonials
"BorrowMyDoggy has been similar to hiring a babysitter. Our borrowers aren't doing it because it's their job, they're doing it because they miss having a dog and they love dogs which is a great alternative to a dog creche or doggy day care" - Caroline, Posey's owner.


"When I got a puppy, I never imagined he would have separation anxiety. This became a real worry for me returning to work as I just couldn't afford £100 a week on doggy daycare. We found BorrowMyDoggy and now I go to work safe in the knowledge Reggie is having the best day with his borrower, all for the cost of less than 3 days of doggy daycare!" - Reggie's owner, Verity from West Midlands



What the media are barking about
"Borrowing a dog is a fantastic idea." (The Daily Telegraph)
"Owners can save on the astronomical costs of kennels and walkers." (The Sunday Times)
"Through BorrowMyDoggy I have met and become friends with my neighbours." (The Huffington Post)

MEMBERSHIP SECTION

Discover the benefits of becoming a member today. You can also download the BorrowMyDoggy dog sitting app and find a pawfect match on the move.
We have been told by our members that BorrowMyDoggy is a more affordable option than traditional doggy daycare and dog walkers. Especially as our annual membership includes several beneficial services, including our 24/7 Vet Line and third party liability insurance protection, which covers the owner and subscribed borrowers when taking care of a subscribed BorrowMyDoggy dog.
The BorrowMyDoggy team is here to help. Contact us with any questions!
We hope this article has helped you narrow down the best dog daycare near you. Remember to do your research before making a final decision. And most importantly, make sure your pup is happy and comfortable with their new daycare. Thanks for reading!