Discover trusted doggy day care
Now there is no need to feel guilty about leaving your dog on it's own all day. Choose from hundreds of experienced borrowers and find the pawfect match for you and your pup.


Everyday doggy care
If you have ever thought " I wonder if there is dog daycare near me" the answer is probably yes.

Although we wish it was possible, sometimes you can't take your pup everywhere with you, due to work, trips and family commitments. There are also a huge amount of people that absolutely love dogs but can't own their own due to shared living spaces, time issues or financial reasons. BorrowMyDoggy prides itself on building a community where dog owners can connect with loving local borrowers for the perfect doggy daycare solution.
Feel completely guilt free in the knowledge that your four legged friend is having a wonderful day out with a new companion and spreading pawprints of happiness.
If you've ever looked for daycare for dogs you will know how many options there are, from dog boarding to kennels. We understand how much love and attention your dog needs every day and the importance of finding that pawfect match.
Why BorrowMyDoggy?
BorrowMyDoggy is a dog loving community where borrowers help owners take care of dogs for walkies, weekends or holidays.
Dog day care prices can be high, by having one of our borrower's take care of your pup, this not only costs less but provides 1:1 socialisation and much needed fuss for your pup. You needn't feel guilty about working late or heading off for a day out as your dog will be having a holiday of their own!
We take safety and security very seriously and believe that dogs truly are family members and as such, BorrowMyDoggy is all about getting to know other dog lovers really well before making a match. Just as you would with a dog walker or doggy day care, it's super important to know each other well before a dog is taken care of by another person.
Everyone, including the dog, needs to feel happy and trust each other since each pooch and person is different. Before leaving your dog with a local borrower, meet and greet to ensure everyone gets on well, owners then fill out and share the Doggy Info Sheet. This includes important information, from vet's name and address to eating habits and exercise routines, to ensure dogs receives the best care possible.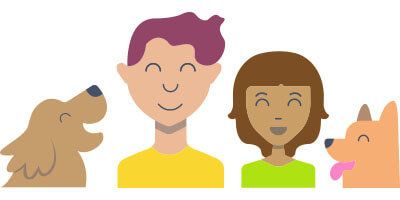 How does BorrowMyDoggy differ from traditional doggy day care?
One on one attention - our matches are made on an individual basis, compared to dog walkers who often walk multiple dogs.
More affordable - traditional doggy day care can be expensive. Our borrowers help walk local dogs because they love of dogs, not to get paid.
Peace of mind - dog owners can relax knowing their dog is enjoying extra exercise and attention from an insured dog lover who has taken our safety checks.
Local - search from as close as ¼ mile to find a dog walker who lives in your neighbourhood.
Testimonials
"BorrowMyDoggy has been similar to hiring a babysitter. Our borrowers aren't doing it because it's their job, they're doing it because they miss having a dog and they love dogs which is a great alternative to a dog creche or doggy day care" - Caroline, Posey's owner.
BorrowMyDoggy membership
Send messages
Get in touch with that perfect match.
24/7 Vet Line
Enjoy around-the-clock access to veterinary professionals.
Be insured
All BorrowMyDoggy dogs are covered by insurance*

Discover the benefits of becoming a member today. You can also download the BorrowMyDoggy dog sitting app and find a pawfect match on the move. We have been told by our members that BorrowMyDoggy is a more affordable option than traditional doggy daycare and dog walkers. Especially as our annual membership includes several beneficial services, including our 24/7 Vet Line and third party liability insurance protection, which covers the owner and subscribed borrowers when taking care of a subscribed BorrowMyDoggy dog.
BorrowMyDoggy is here to help. Contact Us with any questions!