Akita
Fun facts about Akitas
Akitas are an impressive dog, both in size, strength and loyalty. Whether you're thinking of borrowing one or getting your own, we've pulled together lots of fun and interesting facts you should know about the breed.
What is an Akita?
As the most popular breed in its native Japan, Akitas were originally a symbol of wealth and prestige (only nobility were allowed to own one) and later as a symbol of good luck (small Akita statues were given at the birth of a baby or when someone was sick).
With impressive strength, Akitas were originally used for hunting and now, their dignified disposition makes them exceptionally loyal to their owners. Large in size with a curled tail, their fur can have four colours: red, sesame, brindle or white. The average lifespan of an Akita is up to 11 years.
The most common crossbreed is an Akita Husky mix - a Siberian Husky cross Akita.
How much exercise does an Akita need?
As Akitas are such a large breed, sufficient exercise is crucial. They require up to two hours a day of walks and mostly off-lead, if pawsible, to make sure they are thoroughly exercised. If it is off lead, make sure it's in a safe environment where there are no other animals given their high prey drive.
"Hito needs a lot of exercise and attention - I typically give him at least 3 hours a day. He is strong, but with confident guidance he will comply and be as docile as you like." - Grant, owner Hito

What about their temperament?
Towards their owners, Akitas are loyal, protective and affectionate. Socialisation with other people and dogs from early puppyhood is essential to ensure an Akita is balanced, although they naturally take a passive, yet dominant position.
"Three words that best describe Koji are; Soft, Loyal and Friendly. He is quite dominant, but loves people both big and small. Koji can be quite aloof with strangers, but once he knows you he is affectionate and very pleased to see you." - Natalie, Owner of Koji
Are they easy to train?
Because of their dominant nature, owners must demonstrate consistent confidence when training. Akitas are slightly stubborn and do not enjoy repetition, so keep this in mind when training to avoid feeling discouraged. Owners in the BorrowMyDoggy community give some insight into their Akita dogs: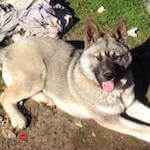 "Kobah knows the command sit and come, however, sometimes is quiet stubborn and doesn't like to listen, especially when distracted in the parks so you have to be firm with him and not give into those big puppy eyes!" - Khadeeja, Owner of Kobah
Lisa, Owner of Kitt, says: "Kitt is a big loveable dog - often described as a teddy bear."
Anette, Owner of Daisy, says: "Daisy's favourite pastimes are licking, playing games, licking some more and having lots of walks and cuddles."

Most common names on BorrowMyDoggy:
Jessie
Diesel
Winston
Bella
Rascal
Bear
Marley
Luna
Kobi
Do you want your Akita to be even happier and healthier? Watch our members share how much happier their dogs have become since joining BorrowMyDoggy.
High paws to our lovely community for letting us share these facts about their dogs. Paws crossed you found them helpful :)

Borrowers - looking for the pawfect dog to join you on a walk?
Owners - would you like your Akita to make a new friend?