Australian Shepherd
Fun facts about Australian Shepherds from the BorrowMyDoggy community
Are you looking for a loyal, loving and courageous dog? An Australian Shepherd could be just for you! Whether you're thinking of borrowing one or getting your own, we've pulled together some fun and interesting facts you should know about the breed.
What is an Australian Shepherd?
Interestingly enough, the Australian Shepherd actually originates from America, and has derived from the Spanish Sheepdog. They are an incredibly intelligent and alert working dog, who are often used on farms and ranches. They come in four different colours; black, red, blue merle and red merle, with each of these colours sometimes showing tan and white marking on the legs, face and chest. All of their coats are waterproof. The Miniature Australian Shepherd or Miniature American Shepherd is a smaller version of the breed but is similar in all other respects.
Some breeds of dog that (actually) originate from Australia include two other working types, Australian Cattle Dogs and Australian Kelpies, and two terriers, Australian Silky Terriers and the Australian Terriers.
How much exercise does an Australian Shepherd need?
Australian Shepherds are extremely active dogs, that require more than 2 hours of exercise a day according to The Kennel Club. They require committed owners who are willing to give them lots of exercise if they are not going to be used as a working dog. They just love to be kept busy whether that's working, learning new tricks, competing or just getting lots of walks.
"Hobson has a lot of energy - he enjoys walks by the river and playing fetch (although he might not bring it back!). I always walk him off the lead so he get's as much exercise as possible, and he never ventures too far away from me." - Tatiana, Owner of Hobson.
What is the temperament of an Australian Shepherd?
The Australian Shepherd has a fantastic temperament. They're very loving and loyal dogs, who are extremely devoted to those around them. They can be protective of their territory, but are also very easygoing and courageous.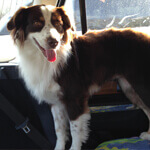 "Roxy is the sweetest and well behaved dog. She is very relaxed and calm, and she just loves spending time outside. She is a true beauty and anyone who spends time with her leaves with a big smile." - Lee, Owner of Roxy







Are Australian Shepherds easy to train?
Although the Australian Shepherd is relatively easy to train, this has to be done from a very early age to ensure they know who is boss. Consistency is key when training them.
"Panda is a very clever dog - he can open doors and grasps things very fast." - Danielle, Owner of Panda.

That being said, here are a few funny quirks that some of our members' pooches have:

Rebecca, Owner of Rupert
"Rupert must always be on you, or touching you and he loves his belly, well actually any part of him rubbed! He cries when you stop rubbing him and he loves to give kisses."
Elaine, Owner of Logan
"Logan competes in Flyball and has a number of Rosettes - 1st place has so far eluded him, but that's our target for this year."
Juliann, Owner of Joey
"Joey is 6 months old and is loved (and loves!) by everyone!"

Most common Australian Shepherd names on BorrowMyDoggy:
Auggie
Poppy
Hobson
Bob
Quinna
Owner Caroline joined BorrowMyDoggy with her Australian Shepherd, Posey, and shared how BorrowMyDoggy borrowers join "not because it's their job. They're doing it because they miss having a dog and they love dogs."
High paws to our lovely community for letting us share these facts about their Australian Shepherds. Paws crossed you found them helpful :)

Looking for the pawfect Australian Shepherd to join you on a walk? Or would you like your Australian Shepherd to make a new friend? Why not sign up to BorrowMyDoggy today.