Great Places to Walk Your Dog in York
Five great places in York to take your dog for a walk
Walking our furry friends is such an important part of dog ownership. If you're borrowing a dog, you might not know the best places to go, so we hope to inspire you with these five local wagtastic walking spots for you and your doggy, borrowed or owned, in York.


Part of Knavesmire, one of York's oldest and largest commons, Hob Moor is a wonderful place to take your dog for a walk. Because of all the different flora and fauna you can see throughout the year, it makes an ideal spot no matter the season. You can enjoy buttercups in summer or even a beautiful sunrise in the winter with your pup.
According to the York Council, "The path is well trodden all the way around the moor and is easy to follow. Be aware of cattle grazing on the moor from late spring through to the end of summer too, they shouldn't bother you, but if you have a dog with you, it's best to keep it on a lead!"
Plan your walk to Hob Moor
Dogs are welcome if kept on a lead at the gorgeous botanical gardens run by the Yorkshire Museum. Located in the heart of York, there are ten gorgeous acres for you and your dog to explore together. In addition to loads of plants and wildlife to enjoy, you can also find the ruins of St. Mary's Abbey and the Roman Multangular Tower.
Plan your dog walk to Yorkshire Museum Gardens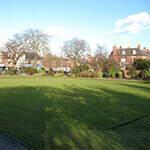 Glen Gardens may be small, but it is certainly worth the visit. The dedication to increasing biodiversity means you see a variety of wildlife in the park, including hedgehogs in the evening. Additionally, you'll be able to enjoy the wildflower garden and a rose garden. It's no wonder they've been awarded a Green Flag Award every year since 2005. Dogs are welcome at Glen Gardens provided they are kept on their leads.
Other park perks include a bowling green, two tennis courts, a basketball court and a children's play area.
Plan your dog walk to Glen Gardens.
Three miles east of York's city centre lies Fishponds Wood and Beech Grove. It's a fantastic spot for a dog walk, and you and your furry pal can take a break for a picnic while you're there. On your travels you might spot (or at least hear) songbirds as the developing woodland offers the perfect habitat for these birds. While there, you and your dog can have a wander around the area of wetland, which is home to the wood's fishpond.
Plan your dog walk to Fishponds Wood and Beech Grove
If you fancy an outing near water, River Ouse could be the perfect place for a dog walk. The UK's sixth largest river flows through York's city centre, and your pup can take a quick dip if the mood strikes during your adventures. There are areas near the water for off-lead frolicking for your dog, and the location in city centre means there are loads of cafes and pubs in the area when you need a break.
Plan your dog walk around River Ouse.
High paws - We hope you're as excited about your next dog walk as we are.

Looking for the pawfect match to join you on a city walk? Or would you like your dog to see the best that York has to offer with a new friend? Why not sign up to BorrowMyDoggy today.