Benefits of spending time with a dog
Dogs are a man's best friend for a reason and the benefits of spending time with them are endless. Watch these dog lovers share how much happier and fun their lives have become since joining BorrowMyDoggy and read through to learn about the physical and emotional benefits of spending time with a dog.
Benefit 1: Dogs boost your mood and your health
Lower blood pressure and weight loss are just some of the reasons "dogs are your heart's best friend", according to Boots Health & Beauty Magazine. Martha Roberts, the award-winning UK health writer added that "if you spend time time with a dog, not only will you benefit physically, you'll also benefit psychologically."
Dogs:



Increase happiness levels


Reduce stress and make people feel less lonely


Make people feel as happy and positive as their human best friend does
Spending just 15-30 minutes with a lovable dog can leave you feeling more relaxed and calm and relieve everyday stress. Overall, "spending time with a dog can make you a happier person." - Psychologies Magazine.
Dr Becky Prince of Dr Morton's – the medical helpline – talks about the health benefits of dogs in this short clip:
Benefit 2: Dogs can help your fitness
Dogs are the ultimate workout partner. In fact, we bet you won't find a more eager cardio companion than dogs. As Women's Fitness explained, "if you're struggling for some motivation, or just fancy a bit of company while you pound the pavement, taking a poochie pal with you could be the perfect solution."

Dogs' enthusiasm and happiness for exercise is contagious and just when you think you've hit your workout peak, a sudden squirrel sighting will push you through that last sprint.
"I love exercising and walking and now having Byron in my life, I do lengthy walks and have a wonderful time with him." - Mandy, BorrowMyDoggy borrower
In this videos, members share how they're healthier and more active since joining BorrowMyDoggy.
Even if you prefer walking, many dog owners admit they wouldn't walk as often if they didn't have a dog wanting a walk. So whether you own or borrow a dog, you'll end up walking on average an extra hour a day compared to people without dogs.
Benefit 3: Dogs can improve your social life
Not only do people become more sociable when they have a dog in their life, but they also become less shy. Nearly half of BorrowMyDoggy members join to make new friends and be part of a local dog-loving community and whenever we speak with borrowers and owners, they always share that getting to know their matches is like meeting new friends.
"You get to meet people from all around your area and it builds a community. We've become friends with our borrower, who lives just across the street." - Maggie, BorrowMyDoggy owner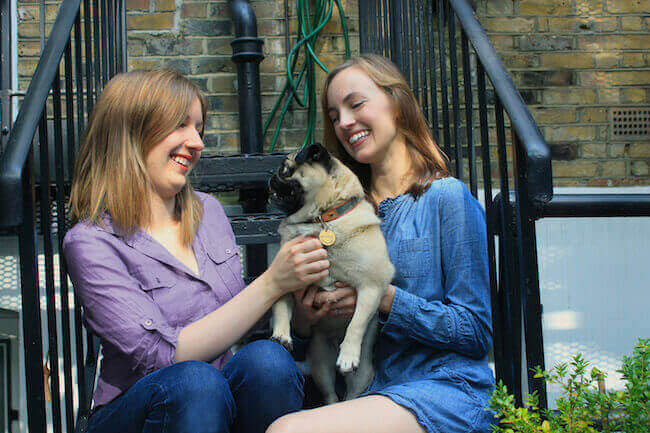 There are lots of people who'd love to spend time with a dog, but cannot currently own one of their own for various reasons such as living space, time commitment and financial reasons. By becoming a BorrowMyDoggy borrower, dog lovers can help out in lots of ways, including local dog walking, hosting a dog in their home or giving a dog an afternoon of extra cuddles. What's more, the borrowers can enjoy all the wonderful benefits of spending time with a dog.

Whether you own a dog or are simply a dog lover, why not sign up and begin messaging pawtential matches to leave 'Pawprints of Happiness' on the lives of dogs and humans.

Sign up now