Why home dog boarding is best
Whether you travel for longer periods of time or prefer weekend holidays, BorrowMyDoggy is a wonderful alternative to kennels.
When it's impossible to bring your dog on holiday with you, they can enjoy a wonderful holiday of their very own with extra love and one-on-one attention at the home of a local, verified, insured BorrowMyDoggy borrower.
BorrowMyDoggy is an alternative to kennels where owners can have peace of mind knowing their dog is well taken care of by someone who wants to look after their dog simply because they love dogs, not to get paid.
"When we go on holiday, we know Maximus is having a fantastic time, too. We've become friends with our borrower and it's nice to leave your dogs with a friend as opposed to a kennel where you don't know anybody." - Maggie, Maximus' owner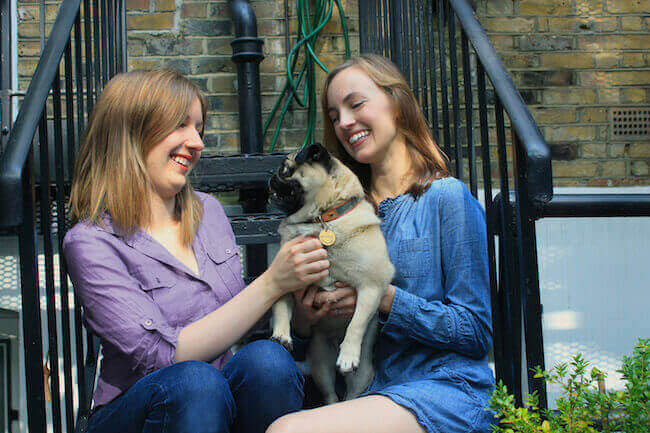 We take safety and security very seriously and believe that dogs truly are family members and as such, BorrowMyDoggy is all about getting to know other dog lovers really well before making a match. Just as you would if you were home boarding your dog with a friend, family member, or dog kennel, it's super important to know each other well locally before a dog is taken care off by another person.
"If we want to go away for the weekend, BorrowMyDoggy is such a better experience than kennels. It's so much more than a business of dog walking and dog sitting, it's developing a doggy community." " - Mike and Rosanna, Darcy's owners
Everyone, including the dog, needs to feel happy and trust each other since each pooch and person is different. As owner Caroline said, "BorrowMyDoggy is just like hiring a babysitter."

"BorrowMyDoggy has saved us a small fortune. Especially living in London, doggy day care and dog kennels are really, really expensive." - Katherine and Peter, George's owners
Our owners have shared how BorrowMyDoggy is a more affordable option than kennels and dog walkers, especially as our annual membership includes several beneficial services, including our 24/7 Vet Line and third party liability insurance protection, which covers the owner and subscribed borrowers when taking care of a subscribed BorrowMyDoggy dog.
Before leaving your dog with a local borrower, owners fill out and share the Borrowing Info Sheet. This includes important information, from vet's name and address to eating habits and exercise routines, to ensure dogs receives the best care possible.
To find your dog a loving home away from home for your next holiday, sign up and begin messaging pawtential matches in your area.

Sign up now