Tracey joined BorrowMyDoggy so her children could get some happy dog time. She matched with owner Max and his two Cavaliers, George and Milo, and it turned out to be the pawfect match. Tracey's kids love seeing the dogs and they're so excited to make the match even more regular.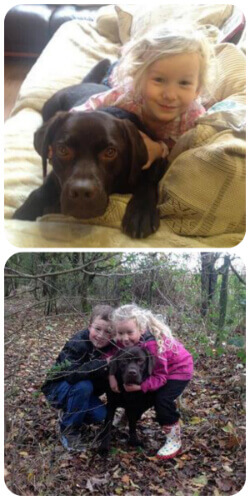 Tell us a bit about your experience with BorrowMyDoggy
BorrowMyDoggy is such a great idea. Our first experience was perfect and we could not have wished for a better match.
Why did you sign up to BorrowMyDoggy?
My daughter loves dogs so much she lists dog names in her book, learns about different breeds and enjoys watching the dog whisperer. It's more than a fad she's talked about having a dog for nearly two years. As working parents we need to be responsible and have explained why it would be unfair to have a dog. As you can imagine there's been a few tears along the way. We wanted to find a owner with a fun and friendly dog that we could help by taking the dog for a walk now and again. BorrowMyDoggy was the answer!
How did you go about making new poochy pals?
Signing up to BorrowMyDoggy was really easy and my children added a few dogs to our favourite list. Within a week or so we received our first message and we matched with Milo & George, two stunning Cavalier King Charles Spaniels. It was like a second Christmas for my children.
Tell us about your 'Welcome Woof'
Milo & George are brothers and they turned out to be the perfect match for my son and daughter because they each had a dog to walk and could share the experience. Milo was definitely more energetic and he took my daughter for a walk whereas George is more chilled. It was a great day walking them in the local park and we met other dogs owners who stopped to say hello. My children loved the attention and so did the dogs.
How are you getting on with your new furry pal?
We've borrowed Milo & George a few times and hope to make this a regular visit. The owners are so lovely and it was clear to see the boys are truly loved by their owners. We're so happy we were matched with them.
What one word do you associate with BorrowMyDoggy?
Fun