Our paws are crossed you like our latest #TakeTheLead with Ruby the Spaniel.
Borrower Mandy shares how the pair spent their wagulous day. From running along the river to chasing squirrels in the park, they enjoyed lots of tail-wagging fun together. High paws!
11:09am - Ruby is my running buddy. She always 'takes the lead' with the hope of a quick dip in the river :)
12:06pm - On a stakeout for squirrels, Ruby could spend all day watching the trees waiting for a grey furry friend to jump out.
1:17pm - Iced coffee and watching boats sail down the river, the pawfect post-workout cool down :)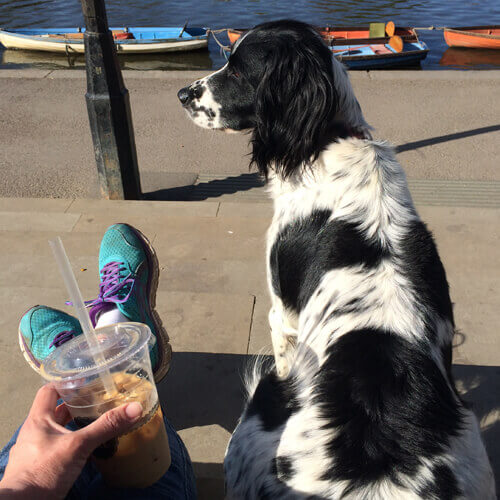 2:04pm - A walk in the park always ends with Ruby finding a puddle to splash in - what a mucky pup!
3:31pm - After the park, it's time for a bit more exercise! My girls love to wheel around with Ruby trotting by their side.
4:22pm - If she's not skating round the block, she is defending the goal. Ruby makes a wagulous footie play mate.
5:45pm - Ruby's Michelin star worthy supper is prepped while she keeps watch on the BBQ :)
7:36pm - All this activity can really tire a pooch out. Ruby takes full advantage of the sofa and stretches out. It's over and out from us and as you can see we are we're both ready for bed now :)