Borrower Helen joined BorrowMyDoggy to fill the big dog shaped hole in her life and matched with the gorgeous Saffy. Helen walks Saffy regularly and even describes her as her best friend - how wagulous. Here is their amazing Waggy Tale.
How are you getting on with your new furry pal?
Saffy is wonderful. We're best friends. She now knows that when I pull up in the car she's getting a walk so she excitedly comes running over to the gate. We have so much fun together and she's so well behaved. I trust her completely, which is so important to me. She listens to me and I feel safe with her. She brings a huge smile to my day. Without BorrowMyDoggy, that dog shaped hole in my heart would still be empty, but now I have found Saffy, it is positively glowing and full of love. Whenever I know I will be walking Saffy, I know it's going to be a great day.
We have a great arrangement and we're quite organised. I walk Saffy in the afternoons three times a week. I wish I could do it every day. I get on with Saffy's owner, Marie really well. I text her photos on the walks and let her know what's going on. She seems so happy with everything and it's a big weight off her mind as her dog has more company.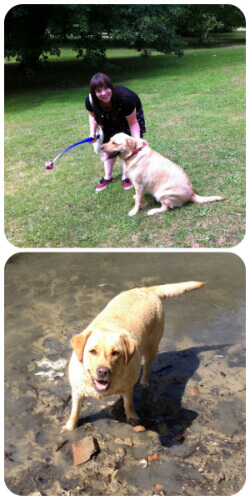 Why did you sign up to BorrowMyDoggy?
Ever since I was a kid, I've always wanted a dog and always loved animals. I've never been able to own my own dog as I live in a rented flat. Even if I could, there's not enough room. I came across BorrowMyDoggy one Sunday morning when I saw an article in the Daily Mail and thought to myself "this is the best thing ever!" I signed up that day and it all went from there.
High paws! Tell us a bit more about your BorrowMyDoggy experience...
Once I'd joined up, I added lots of local dogs to my favourites and messaged several owners. I wanted to be 100% sure that the dog I committed to was exactly the right match. Saffy was the second dog I messaged and was immediately one of my favourites. I heard back from her owner, Marie, a few days later.
We messaged through the site and then, when we felt comfortable, we arranged our 'Welcome Woof'. I met Saffy and Marie and we went for walk together. Marie showed me Saffy's traits, told me what she likes and doesn't like.
What's the one thing you would tell other potential borrowers about BorrowMyDoggy?
It's important to take your time to find a dog that's 100% right for you and that you're right for, too. It's so easy to see all the dogs on BorrowMyDoggy and get carried away. It's best to remember that they might not be right for you and you might not be right for them. So take your time, make sure you're completely happy and it's the best thing ever!
What words do you associate with BorrowMyDoggy?
Fun, friendship and cute :)