Today we've got the lovely story of borrower Jenny, who signed-up to BorrowMyDoggy for her and her daughter to spend time with a pooch. They matched with a gorgeous dog called Fudge, and now help take care of him regularly when his owners are busy. Here's their story :)
How are you getting on with your new furry pal?
We are enjoying looking after Fudge immensely. It's the perfect set up for us, especially with the cats we own! Fudge is so sweet, very inquisitive and really easy to look after. He comes to ours one day a week, on a Wednesday. We take him for walks, fuss over him and generally just enjoy having a dog for the day. My daughter is a photographer so she always sends photos to Fudge's owner to let her know how he's getting on.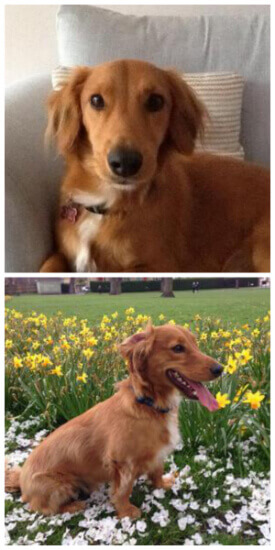 Why did you sign up to BorrowMyDoggy?
We used to have a dog, though we haven't owned one for ten years. My daughter was desperate for us to get another, however we have four old cats who I doubt would be very keen on the idea! I was looking for alternatives on Google and came across BorrowMyDoggy. I thought to myself "Yes, this is the thing we've been looking for." So, of course, I joined.
Tell us about your Welcome Woof?
I added some local dogs to my favourites and was contacted by the owner of an adorable Jack Russell/Spaniel crossbreed called Fudge. We messaged a few times through BorrowMyDoggy then decided to meet face-to-face. The owner came over with her two daughters and Fudge and we had a cup of tea and chat to get to know each other. It turned out that Fudge's owners both work and have been using dog walkers up until now. They live quite close and are happy to drop Fudge off at ours on their way to work which works perfectly for us.
What's the one thing you would tell other potential borrowers about BorrowMyDoggy?
It's important to test things out first of all and make sure you're comfortable. I recommend that when you are meeting with an owner you go for a walk with them and the dog so you know what they're like out and about. There is a big variety of dogs on BorrowMyDoggy too, so be conscious of only adding dogs that you have the time, space and experience to take care of well.
High paws! Do tell us a little more...
BorrowMyDoggy has been a very positive experience (although the cats might tell you something different!). It's great. I'll definitely be recommending BorrowMyDoggy to other people.
What one word do you associate with BorrowMyDoggy?
Heartwarming.