It was just a normal Tuesday afternoon at the BorrowMyDoggy kennel, when we heard the pawsome news that Buzzfeed woofed about our doggy-loving community.
As you can imagine, it really caught our attention.
In true Buzzfeed style, the feature listed some of the many benefits of our doggy-loving community, including how dogs bring so much joy and happiness - high paws!
So, what better way to celebrate than to create our very own Buzzfeed-style list, showing you our pack's reactions when we heard the exciting news:
'Media puppy' was the first to deliver the news. She put on quite a happy dance.
One of our Co-founders, Rikke, was jumping for joy!
'Tech Puppy' (our other co-founder) was extremely proud.
'Social Puppy' could not contain her excitement.
Even 'Community Puppy' surprised herself with her reaction.
'Help Puppy' celebrated in the best way she knew how, by helping herself to treats.
And 'Design Puppy' could hardly believe it.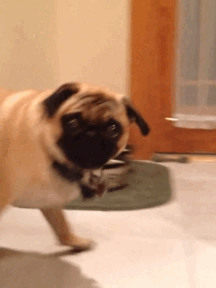 Finally, 'Data Puppy' decided running in circles was the pawfect way to celebrate.