There's no bigger date in the doggy diary than Crufts. Billed as "The Biggest and Best Celebration of Dogs", Crufts is the world's largest dog show and has been running since 1891. Last year, almost 149,500 dog lovers attended this four day event in Birmingham. Naturally, the BorrowMyDoggy pack trotted up to Birmingham to join the fun and meet some wagulous people (and, of course, dogs) in the process.
With five huge halls filled with everything you and your doggy could ever want, our pack weaved its way through and found some pawsome people, pups and products.
At the Sketch Your Pet stand, we met Diddy the miniature Pomeranian, who took a pawticular liking to BorrowMyDoggy co-founder, Rikke. We also met the man behind these pawsome illustrations, Jon. We absowoofly love his sketches!
Next stop was Guide Dogs, how could we resist these amazing pooches and their inspiring owners? Amongst others, we met Head of Events, Jacky (seen below left with one of the absowoofly wonderful guide dogs at the show). Our very own 'Tech Puppy' (seen below right receiving a well-earned double high paws from Snoopy from K9 massage) sponsored Gismo, one of the wonderful pups currently being trained by this amazing charity.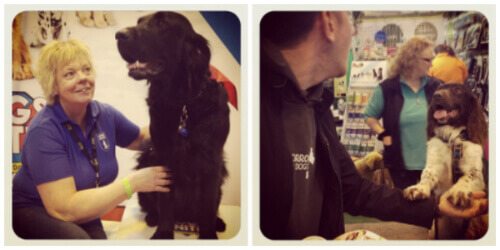 The Discover Dogs area was jam packed with doggies of all shapes and sizes so we were on ear-ruffle and tummy-rub duty as we met as many pooches as pawsible. Here are a couple of the wagtastic canines that we had the pleasure of shaking paws with!
All in all it was a great day out and we cannot wait to meet some more pawsome people and pooches at the London Pet Show in May. High paws!
The BorrowMyDoggy Team