Today we would like to share with you the wagulous story of Kelli, a borrower from Yorkshire, who has found not one, but two matches through BorrowMyDoggy. High paws! It makes us so happy to hear about all the borrowers filling the dog-shaped hole in their lives, whilst making a doggy and owner tail-waggingly happy.
I found out about BorrowMyDoggy through a friend, who knows I adore dogs. She shared the link with me on Twitter and I signed up straight away! As I rent my house, I can't have a dog at the moment because my landlord won't allow it on a permanent basis, so this seemed like the perfect solution.
Once I'd filled in my profile and uploaded a photo I searched around me for local dogs signed up. Although there weren't lots close by, once I broadened my search I was able to find some lovely dogs within ten miles and I immediately added them to my favourites. Here's a photo of myself and my new doggy friend, Alfie.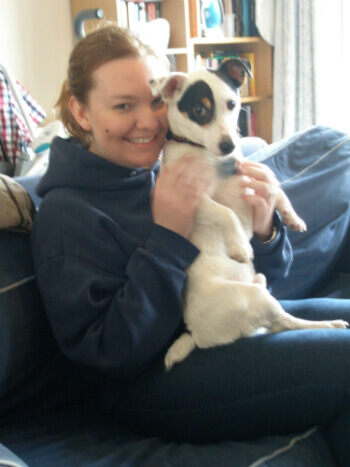 My first match
My first message came from a lady who lives 6 miles away. She was looking for someone to help her out with her rescue dog, Lucas, and asked if I would like to meet with her. We exchanged messages about three or four times through BorrowMyDoggy and then organised a suitable time to meet for our first meet and greet, the 'Welcome Woof'.
Our 'Welcome Woof' was at a local park where we walked and talked for a few hours. It was a great chance for us to get to know each other and, of course, for me to meet Lucas, a crossbreed who she had rescued from a shelter. From there, we met again and had another walk in the park and chat about Lucas, in between numerous games of fetch! On our third meeting, I took Lucas for a walk on my own whilst his owner went to the shops then we met afterwards for lunch to chat about how it went, which was really well!
Lucas' owner is very flexible and we have no standard arrangement. I can just message her when I'm in need of some dog-time and she also has another borrower who she is in contact with so Lucas is getting lots of extra love.
My second match
I've also made even more doggy friends through the site as I was contacted by a woman with three dogs - two Jack Russells and a German Shepherd cross. She was looking for someone to help her out with her Jack Russells, who needed a few extra walks. I met with her and her dogs several times before I took the Jack Russells on my own for a walk and, after a recent trial sleepover at mine, I'm even having the dogs for a weekend when she goes away!
BorrowMyDoggy has worked brilliantly for me. It has been really easy to use and lovely to meet new people and dogs.