We have received a few questions on the photo verification process, with the aim of this being to simply check that you (and your doggy if you're an owner) match the picture we have received of you. The photo verification can be done either via you uploading a video on our site (through the super easy to use video recording), by sending a recorded video through skype, or by a live chat on Skype or FaceTime.
The easiest option is to send us a recorded video on Skype, following these simple steps:
- Sign-in to your Skype account and add BorrowMyDoggy so that we appear in your contact list.

- Once this is done, select us as a contact and click on 'Conversations', then 'Send Video message.' You don't have to wait until we have accepted your friend request to do this, it can be done straight away.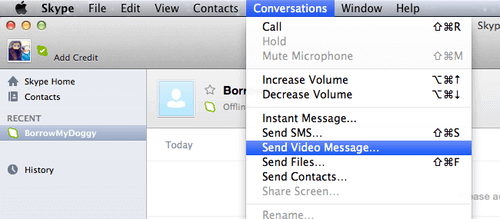 Alternatively, if you struggle with the above option we can schedule a time most convenient to you through our booking system and have a live chat via Skype or Facetime. We'd be happy to answer any questions you may have for us during the call too.
All we need to see is a very quick clip of you saying your name and where you're from. If you're an owner, we'll need to see the doggy briefly too! We absowoofly love getting feedback, so please do send us any comments to help BorrowMyDoggy leave as many 'Pawprints of Happiness' as possible.
Once your video verification has been completed, you'll be notified and the matches can begin.
Woofs and tail-wags,
The BorrowMyDoggy Team